Class of 2018: Here's Your Checklist to Getting a Job
Here's a quick 5-point checklist for soon-to-be college graduates!
Update Your Resume
Include full contact information (name, town, state, phone number, email) and link to your LinkedIn profile.

Make sure the email you use is appropriate (i.e. stay away from partytilldawn@gmail.com).
Customize your LinkedIn URL!

Keep it to one page- The bullets should be concise and aimed for the position.
Include all relevant

course work, extracurricular activities, awards, clubs to show your experience.

Use action verbs to start all bullets (Wake Forest University put together a great list here).
An executive summary or resume summary is something that can really hurt your resume if you don't put time and thought into it.

The Summary can show how you differentiate from others and what makes you, you.

Cover letter is a highly debated topic; I like to see a personalized couple paragraphs that speak further on specific examples or experiences outside of your resume that makes you a good fit for the role and company. Best case, you impress the hiring manager, worst case you've lost a little bit of time.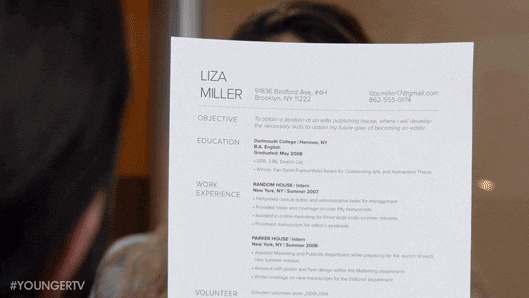 What Would You Like To Do

Your first job does not define you. It shouldn't dictate your feelings of success or failure. If anything the first job will give you a crash course for the "real world." I like to say your first job is a chance to figure out what you definitely don't want to do. Having at least an industry or idea to pursue helps not only guide you in job hunting, but also prepares you for interview questions like "Why this job?" or "Why this company?"
Attend Career Fairs and Company Open Houses
This is a great opportunity to really practice interviewing with a number of different companies.
Use it as a 5-10 minute speed-interview for some of the more basic and common interview questions like "Tell me about yourself" and "What are you looking for?"
It also gives you an opportunity to drop off your resume and learn more about a handful of companies.
Dress up and have fresh copies of your resume.

Go the extra step and have pre-made cover letters for each company.
Connect With Your Professors
Reach out to professors who worked in your field of interest and brainstorm a potential path.
Get written references from previous professors to include with applications.
They may have the inside scoop on companies that hire college graduates, are great to work with, or help introduce you to hiring managers.
Get Ready For(some) Rejection
For most recent graduates, you'll hear a lot of no's. Don't let that discourage you. Get feedback on interviews and use it for the next one.
Open to relocating? Look at up-and-coming cities for your skillset and be open to traveling for interviews.
Don't lose hope!
I'll end the checklist with one of my favorite quotes:
Only those who dare to fail greatly can ever achieve greatly." - Robert F. Kennedy
Thinking about joining the talent acquisition industry? Want to help recruit for some of Boston's best tech companies?
Improve your prospects of getting hired by reading these resources: